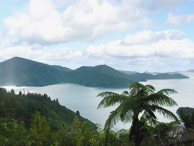 "This is the perfect place to
unwind after 4 days of tramping!
Just relaxing in these beautiful suroundings, what a bliss.
Thanks for all the delicious
food, Peter."
Andrea, Monika & Saskia – Germany
The Best Queen Charlotte Sounds Accommodation
Titoki Eco Retreat is an amazing accommodation option for anyone wanting to explore the Queen Charlotte Track, one of the most beautiful and well-known walking tracks in New Zealand.
The Queen Charlotte Track starts from Ship Cove and finishes at Anikiwa. The track is 3–5 days of walking through pristine bays and beautiful native bush, and at the end of each day you can stay at various lodges and backpacker hostels. Water taxis can take your packs to the next destination, leaving you to carry only a day pack, so you can fully enjoy this magic part of the country!
If you want to walk the Queen Charlotte Track in a leisurely way, allow 5 days. On day four you can take a short walk to Titoki Eco Retreat, and take time-out from your walk. Relax on the deck and enjoy the beautiful views, or we can take you on a tour of the surrounding area by boat.
A suggested itinerary:
Day 1: Ship Cove to Endeavour Inlet (approximately 15 kms, 3.5 - 5 hours)
Day 2: Endeavour Inlet to Camp Bay (approximately 11.5 kms, 3 - 4hrs)
Day 3: Camp Bay to Portage (approximately 24.5 kms, 6 - 8 hrs)
Day 4: Portage to Lochmara Bay/Titoki Eco Retreat (approximately 6 kms, 3 - 3.5 hrs)
Day 5: Lochmara Bay/Titoki to Anakiwa (approximately 15 kms, 3.5 - 5 hours).
If you're feeling particularly adventurous, you could consider mountain biking the Queen Charlotte Track in 2-3 days. Choose your travel dates carefully though - the first section between Ship Cove and Camp Bay is only open for bikes from 1 March to 30 November each year. Titoki Eco Retreat's location makes it a great last night's accommodation before you head off to Anakiwa.
Titoki is accessed from the Queen Charlotte Track on a well-sign posted track leading past Lochmara Lodge. It will usually take around 30 minutes to walk from the track to Titoki Eco Retreat, with views of Queen Charlotte Sound. Or, why not sit back and let the water taxi take you to Titoki to recover after you successfully complete the scenic track.
Titoki Eco Retreat is your best option for Queen Charlotte Sounds accommodation, with all modern facilities and a beautiful, private location. Titoki is an eco friendly holiday house constructed of untreated timbers, and even your drinking water comes fresh from a nearby spring. Spice up your NZ getaway with some of the delightful local Lochmara Bay attractions like canoeing, visiting the glow worm caves or taking the 20 minute walkway to a great nearby cafe and restaurant! For a virtual tour of the wonder that is Titoki Eco Retreat, check out our accommodation page, or simply contact us to book your Queen Charlotte Sounds Accommodation today!