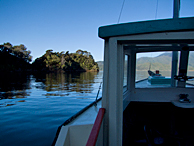 "A beautiful home
with lots of hidden surprises. Awesome stay and weather.
What a paradise."
Kira Pita – Wellington
A New Zealand Retreat in the Beautiful Marlborough Sounds
You'll find this little piece of heaven in Queen Charlotte Sounds' Lochmara Bay, within New Zealand's Marlborough Sounds.
Titoki has no road access, but it wouldn't be a called a New Zealand getaway if it wasn't a little off the beaten track! The good news is, you can reach your holiday accommodation by boat. You have the choice of several water taxi companies who offer anything from a direct 10 minute trip, to a scenic journey along the length of the Queen Charlotte Sound. Access is by water taxi only.
Whether you're coming from overseas or within New Zealand, getting to your Picton accommodation is easy. Sounds Air connects to Picton from Wellington and Kaikoura, or Air New Zealand connects to Blenheim, a 30 minute drive from Picton.
Titoki Eco Retreat is the perfect place to go to get away from the city – the only noise you'll get here is from the bees! So if you want to know what true peace and quiet is like, contact us to book your stay at what we're proud to call the best New Zealand accommodation.